Mulching
Prepare your landscape and sharpen up the look of gardens, trees & plants.
Fresh Mulch Helps Your Plants Grow
Fresh mulch is a great tool and a beautiful accent for your landscape. It will help your plants grow, without drying them out. It will naturally prevent weeds from sprouting. The fresh mulch will make a sharp contrast to the freshly mown green grass. Whether purely aesthetic or to help your lawn and plants grow, Landtech Landscaping is here to achieve your properties goals.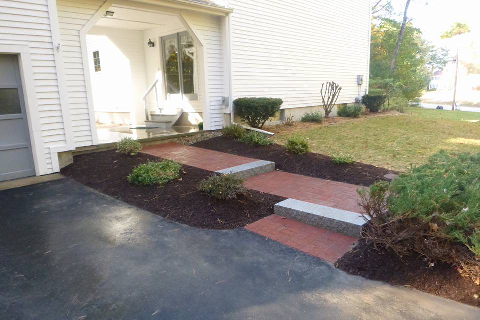 Mulching Services
Treat your lawn and plants to some top-quality care that they deserve. Our mulch services are here to provide a combination of beauty and health to your lawn and property. Clean lawns and fresh mulch and plants are a clear sign of professional care and details on a commercial property and a thing of beauty and growth on a residential one. When people see it, they will get a great first impression.
Our mulch service includes removal of existing weeds, edge redefinition, and installlation of high quality mulch.
Mulch Assists Your Lawn in More Ways Than One
Mulching combined with appropriate soil products are used to collaborate and protect your plants, lawn, and entire landscape through the extreme and harsh weather conditions of New England Winters. Let us handle all the "dirty work" of your lawn and landscaping, so all you have to do is enjoy it! Our mulch and soil product combinations will give you a beautiful and weed-free yard that you will love and your neighbors will be jealous of. Your plants will never look better or be healthier.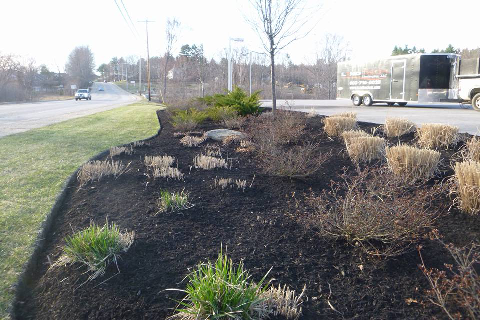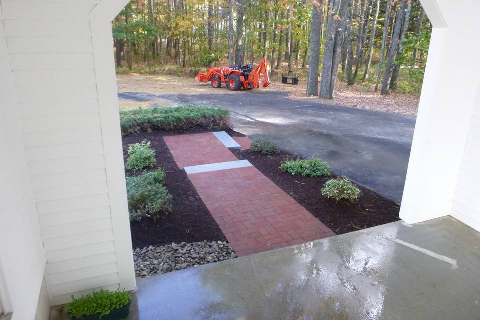 Leave it to the Professionals
Mulch helps protect your plants from extreme weather conditions. Your plants will be thanking you when you let us professionally and skillfully apply mulch to protect them.
Well insulated mulch will help the plants roots from the extreme heat. They will also retain the moisture and nutrients that are needed to keep your plants alive and looking beautiful. They will also protect those roots from the plants hold in their heat in the winter. This helps them live throughout it so come Spring, they have a greater chance of survival and reduce the plants lost that you spent so much time effort and money into planting and growing. Let us provide professional mulching and landscaping care to your entire lawns, and gardens!
We Also Offer Lawn Mowing and Landscaping Services
Get your lawn or property on a schedule this season.
How Can We Help You?
Find out how you can get a landscape that supports your goals and a team of experts focused on you.