Spring Cleanup
When the seasons change, it's a great time to give your lawn and landscape a cleanup.
Spring Cleanup Keeps Your Lawn Healthy
After the snow and ice melt away, your left with a lawn that might be a little dull and need a little bit of care. This is normal! Calling in a professional landscaping service to perform a spring cleanup will set your lawn and landscape on the path of success for the rest of the year.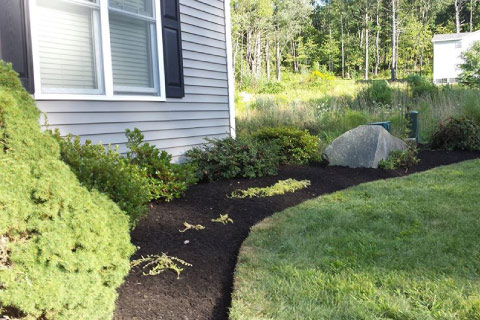 Spring Arrives Every Year
Your yard is going to be feeling the effects of a long New England Winter. Getting your yard professionally cleaned and maintained will make it feel like Spring is already here. Post snow and ice damage will be leaving your yard in need of a full clean-up!
We will remove winter debris, weeds, and leaves that have been all over your yard since last fall. We will create a beautiful landscape for you to start off the warmer months with that you will love! Landtech Landscaping is here to help.
When is The Best Time to Schedule?
Warmer weather means getting full use of your outdoor property. It's time to use and show off the yard that you love! Getting on the schedule early secures your place in receiving a full and proper cleanup in preparation for Summer maintenance.
Spring cleanups include a collection and removal of all winter debris, branches, and all other clutter, lawn mowing, lawn care and more. We can also prune, mulch, plant and perfect your landscape. Get your property looking amazing for the spring and summer.
We Also Offer Fall Cleanup Services
Debris and leaves scattered about your lawn? Prepare your landscape for winter survival! The key to a great looking lawn next season is to prepare it for harsh New England weather. Learn more!
How Can We Help You?
Find out how you can get a landscape that supports your goals and a team of experts focused on you.